Photo Camille Selva

You have just passed through the porch of Number 6 place Arthur Boudin which is located only a stone's throw away from the Vieux Bassin of Honfleur (behind the Town Hall).
You are now entering a magnificent courtyard called 'Cour de Roncheville'.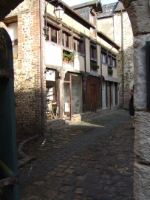 This place is steeped in history since it has been established as a seigniorial residence from 1206 until the English Occupation during the Hundred Years War.
At the End of the war, Charles VII made it the residence of the Governors in Honfleur. Among them from 1470 to 1486, Louis de Bourbon was asked by Louis XI to raise the fortifications and he decided to rebuild the Mansion of Roncheville in 1470.
Over the centuries, the Mansion underwent several changes, especially in the seventeenth century.
In 1983 Simon Chaye, an artist as well as a painter on cardboard got the property of the whole building and undertook what was going to be a long and successful rehabilitation since the 'Manoir de Roncheville' got the title of Historical Monument in 1990.
The revival of the 'Cour de Roncheville' was officially celebrated in 1986, but as far back as 1984 when I met Simon Chaye I have had the opportunity to develop in this wonderful place the Art Gallery and Studio I had set up in Honfleur in 1979.
__________________ Visit the virtual Gallery ___________________
____________________________________________________________________